FKA Chief Instructor and BIMAF Director

Sensei Paul Simmons 6th Dan, MSc, BSc (Hons), CSCS, MAAF, ACSM (cert)
Sensei Paul Simmons started his martial art career in 1985 starting at Uckfield Judo Club and was trained by the British Female Judo champion at the time. He competed at Crystal Palace National Sports Centre the following year to compete at the BJA (British Judo Association) Southern Regional Championships; he won silver at the Sussex County Championships the same year and was the winner at Mick Leigh's (8th Dan) Summer Course Judo Tournament. He continued competing regularly for another couple of years. At the same time he started Karate and soon his passion for the stand up part of the art dominated his time and so he concentrated on this and reached his first Karate open competition final in 1990.


Sensei Paul's first interview and article by Traditional Karate – 1996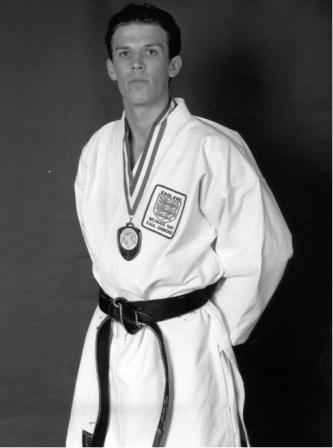 Sensei Paul after winning the Senior English International Open Middleweight Karate Title
Paul continued in Wado-ryu Karate and was graded for his 1st Dan Black Belt under Sensei Chris Kent in Brighton in 1991. Paul started attending courses and seminars under Geoff Thompson MBE and 5x World Heavyweight Karate Champion, Greg Francis World Middleweight finalist, the legendary Ticky Donovan 8th Dan and one of the Worlds foremost karate-ka. As well as Dominic Valeria, the French World Karate and Kickboxing Champion.
From 1992, Paul travelled to central London and trained at Jubilee Hall, Covent Garden to train with Sensei Ian Cuthbert and UKA. At the same time to further his competition career he attended sessions with Geoff Thompson MBE and made the first SHI-KON AssociationTeam. Over the same period, Paul attended Seaford ABA for a short period as his colleagues were National Schoolboys and ABA finals standard and all boxed from Seaford ABA.
At the age of 15 Paul travelled with the Shi-Kon Senior team to the Dutch Senior Open in Rotterdam, Amsterdam. He competed both in the individual and Team. After being brought down to earth and concussed at his first senior outing was followed by competing in the English International Karate Open in Wolverhampton in September of the same year in the SHI-KON 'B' Team in the Senior Team event. They made the final to everyone's astonishment and Paul won the Silver losing to Vic Charles British Sport Karate Team.
By this time Paul had competed mainly in Kumite (Fighting) but also indulged in some Kata open competitions picking up some medal in open competition.

1998 – A great year! Representing England at the European and Senior World Karate Championships at U70kg.

1993 was the year that Paul was selected for the Under 18 Official England Karate Team and attended his first European Under 21 Karate Championships.
From January 1993 until January 2000 Paul successfully represented England and Gt.Britain at all age levels and won most of his caps at Senior Level.
In 1994 Paul won his first senior Cap at -70kg (Light middleweight) to compete against Italy and in the Italian Open. He won through selections and at the age of 17 became one of the youngest senior caped ever and in a time when England had many World Champions.


Sensei Paul Competing for Great Britain in Frankfurt, Germany at the Senior WKF World Cup – Three weight divisions. Very Young, 18 years old in first Senior World's with Ticky Donovan OBE coaching Sensei Paul to reach the last 16.
Paul went on to win his first senior title in Italy by beating the European Champion in the final. From their he went to European Under 21 Championship in Madrid, Spain and lost in the Quarter Finals and then took the individual -68kg spot to represent Great Britain to compete at his first Senior World Cup in Frankfurt, Germany. Losing in the last 16.

Portugal 1998. England v's Portugal. Sensei Paul part of the five man England Team that beat Portugal in the run-up to the World Championships. England Men's Team won the European Championship that year.

Sensei Paul Pre-training in Rio de Janeiro before the World Karate Championships in Brazil. 3 Weeks of 3 times a day hard training and dieting!
Sensei Paul with Nick Clark, World Professional Kickboxing Champion – 1999.
At this time Paul was training in London with Ticky Donovan as part of the England Team aswell as travelling to Bromley and Convent Garden to train at Pineapple studios with World Games Karate Champion Ian Cole. Paul at the same time went to train in France he competed in x 2 French Cups with the world famous Karate club S.I.K in Paris under a French licence.
Paul started instructing in Hove and then Heathfield and slowly built his clubs up. Through his competitive career Paul coached many talented fighters. He has to date coached over 25 individuals to English and British National Medallists and Champions at all age levels from under 12 to senior level. Within in this Multiple English and British Champions. His students have represented England at the European and World Karate Federation (Official World and European Body, 180 countries and 60 million members), European and World Championships. They have also won European and World medals at the Single style, WIKF Wado-ryu European and World Championships. Paul and Sensei Anthoni Everett, National Coaches of KMAC from 2003 -2006 took the Association to the top of the medal table at the British Karate Federation U16 British Championships in 2004 and the 16th Junior British International Open in 2005 against the best Karate-ka in Great Britain. Paul then became National Coach for Kaizen Karate Assocation from 2006-2007 along with Alex Hart and Anthoni Everett. In 2007 they finished third in the Men's Team Kumite '3 0n 3' at the NEC Birmingham.

Sensei Paul with Molly Samuels (7 time World Karate Champion) coaching the Southern Regional Karate England Team (Kumite and Kata) to the English National Regions Title, 2006!
In 2004, Paul applied for the position of 'Southern Area Regional Coach for the English Karate Governing body (EKGB) later to be known 'Karate England' (the official body for all of Karate in England). He was selected as one of the three coaches for the Southern area (South West, South East and London). Paul became the youngest ever holder of the position and very honoured as the two other coaches were the legendary Tyrone Whyte who was one of the greatest Karate Fighters of all time and Molly Samuels (7x World Champion) the most successful female fighter of all time.
The position allowed for Paul to coach World, European Champions and the best karate talent that this country has to offer. The team became the most successful region over the three and half years. They reigned as Nationally regional champions from 2004 to 2006 both Junior and Senior and attended three European Karate Federation European Regional Championships finishing 4th in Bratislava and Germany.


Sensei Paul preparing to demonstrate at Master Tatsuo Suzuki 75th Birthday in Tokyo, Japan. 2003
Paul has taught courses in Portugal, Germany and for various clubs and associations in England. He has demonstrated at Wembley Arena and Earl's court.
Paul has trained with and taught by many great and World renowned Karate-ka these include Sensei, Dominic Valera, Ticky Donovan OBE, Wayne Otto OBE, Tatsuo Suzuki, Vic Charles MBE, Geoff Thompson MBE, Willie Thomas, Abdu Shaker, Michael Millon, Hiroji Fukuzawa, Tim Stephens and Steve Rowe. In 2003, Paul went on a training trip for Master Tatsuo Suzuki 75th Birthday to Japan. Paul was selected by Master Suzuki over a week of selections to Demonstrate at Master Suzuki 75th Birthday celebrations in Tokyo on the 27th September 2003. This is one of Paul's greatest honour's as anyone who practices Karate will know that Master Suzuki is a living Karate Legend, he was the most senior student to the founder of Wado-ryu Karate Hironori Ohtsuka Sensei and foremost living authority on Wado-ryu. He took over in 1991 from Ohtsuka Sensei in protecting the essence of Wado-Ryu.
1998 and 1999 saw Paul help train a group of fighters in Kickboxing. Anthony Winter won a British Amateur Full contact BIKMA Kickboxing Title and David Hutchins a NKA Full contact Title. At present Team FSK Kickboxing have fighters that have represented England at ISKA European and World Championships at Light and Full Contact. Aswell as ISKA English Champions and ISKA World Medalists. The Kickboxing side of FSK compete at WAKO and ISKA sanctioned shows and events.
Paul has written and featured in a variety of Martial Art Publications aswell as GQ and Later. He has also had features in Martial Arts magazines on his students. Paul was a regular columnist for National Karate Magazine 'Traditional Karate' and Kickboxing and MMA Magazine 'Fighters'.
Paul competed 28 times for his country in the Official England and Gt.Britain team and attended 7 European Karate Championships and 2 World Championships. He competed in many English, British, Grandslam Internationals and International Opens aswell as many matches with international teams, on his way winning many international invitational medals. First 10K Clash and 3 on 3 Team Championships.
He won and placed at a major domestic and international level including
* x2 Senior English Titles and numerous times a medallist
* x2 English International Open titles,
* x4 International Grandslam titles,
* Czechoslovakian National Champion,
* Italian Open Champion
* Austrian Open Senior Bronze medallists
* Paris Senior Open Finalists
* Venice Cup Bronze medallists
* multiple British Finalist and medal winner
He has fought all over the World including Portugal, Scotland, Wales, Spain, France, Italy, Corsica, former Yugoslavia, former Czechoslovakia, Czech republic, Germany, Austria, Italy, Turkey, Czech republic, and Brazil. As well competing at many great venues including the Birmingham NEC and NIA, Crystal Palace, Ponds Forge Sheffield, London Hippodrome and London Mermaid Theatre.
Paul has been a black belt since 1991 and was awarded his 4th Dan by Sensei Chris Mundle Chief Instructor to Kaizen Karate Association and member of English Karate Federation (Formally Karate England) in September 2007. In 2012 Paul was graded to 5th Dan by Chris Thompson 8th Dan, Head of English Karate Federation Technical Commitee. He is Chief Instructor to FSK and FKA.
Elected onto the board of the English Karate Federation on 24/7/16