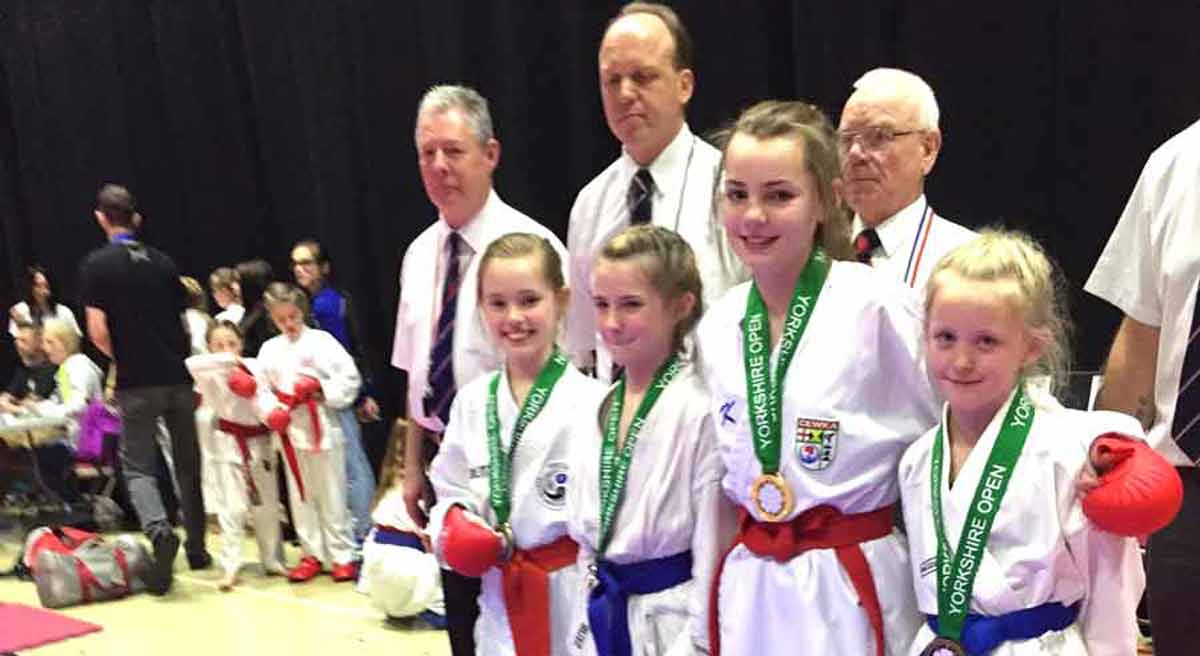 Sunday 21st February saw 4 competitors compete at the prestigious Northern Open Championships.
Representing the club were Zuko Robb, Florence Bradley, Rachel Eagleton and Sophie Santillo. First up was our Junior Zuko Robb who drew 2-2 but unfortunately lost on referees decision on flags. Our Second Junior was Florence Bradley who had a large category but managed to take the first 3 rounds without loosing a point. Unfortunately Florence lost in the semi finals to a much taller opponent 2-4 but a well deserved Bronze and a much needed medal.
Next up was our first cadet in Rachel Eagleton who was on fire and took the first two rounds 8-0 and 9-0 and winning the final with a 5-2 win taking our first Gold of the day.
Last up was our only senior Sophie Santillo who has made many adjustments to her training which paid off this weekend taking her first round 9-0 and second round 8-2 against two very talented and strong England, Welsh national fighters, taking Sophie to the final. In the final we met a talented England fighter but again Sophie's changes in training had paid off winning 5-0 and taking the second Gold of the day. My thanks goes to two amazing coaches in Patrick and Robbie, the parents and all squad members that continue to fight, represent and promote the club and YMCA.
On the same day the club had 65 students grading on the first grading of the year. The students again year in and year out were excellent and the attitude is second to none. The hard work they all put in is very tough and the results they get and enjoyment on there faces collecting there new belts is priceless. Well done to all the students that passed, a huge thank you to the YMCA who are very supportive in our goals and a huge, huge thank you to all my instructors, volunteers and helpers that continue to help without any reward. None of the success is possible with out these amazing individuals.
Sunday 21st saw 4 competitors competing at the prestigious, Northern Open Championships whilst the club also held its first grading of the year.
The competition is a very well attended comp with hundreds of entries and representing the club were 4 competitors, 3 juniors and 1 Senior. First up was Zuko Robb who unfortunately drew his first fight 2-2 but was no able to continue pass the first round. Florence Bradley was up next and won the first three fights without dropping a point but met her match in the semi final against and much taller opponent and unfortunately lost 2-4 but claiming our medal and a well deserved bronze!
Rachel our first cadet was up next and was on fire taking a bye first round winning 8-0 second round, 9-0 semi and 5-2 final taking our first gold.